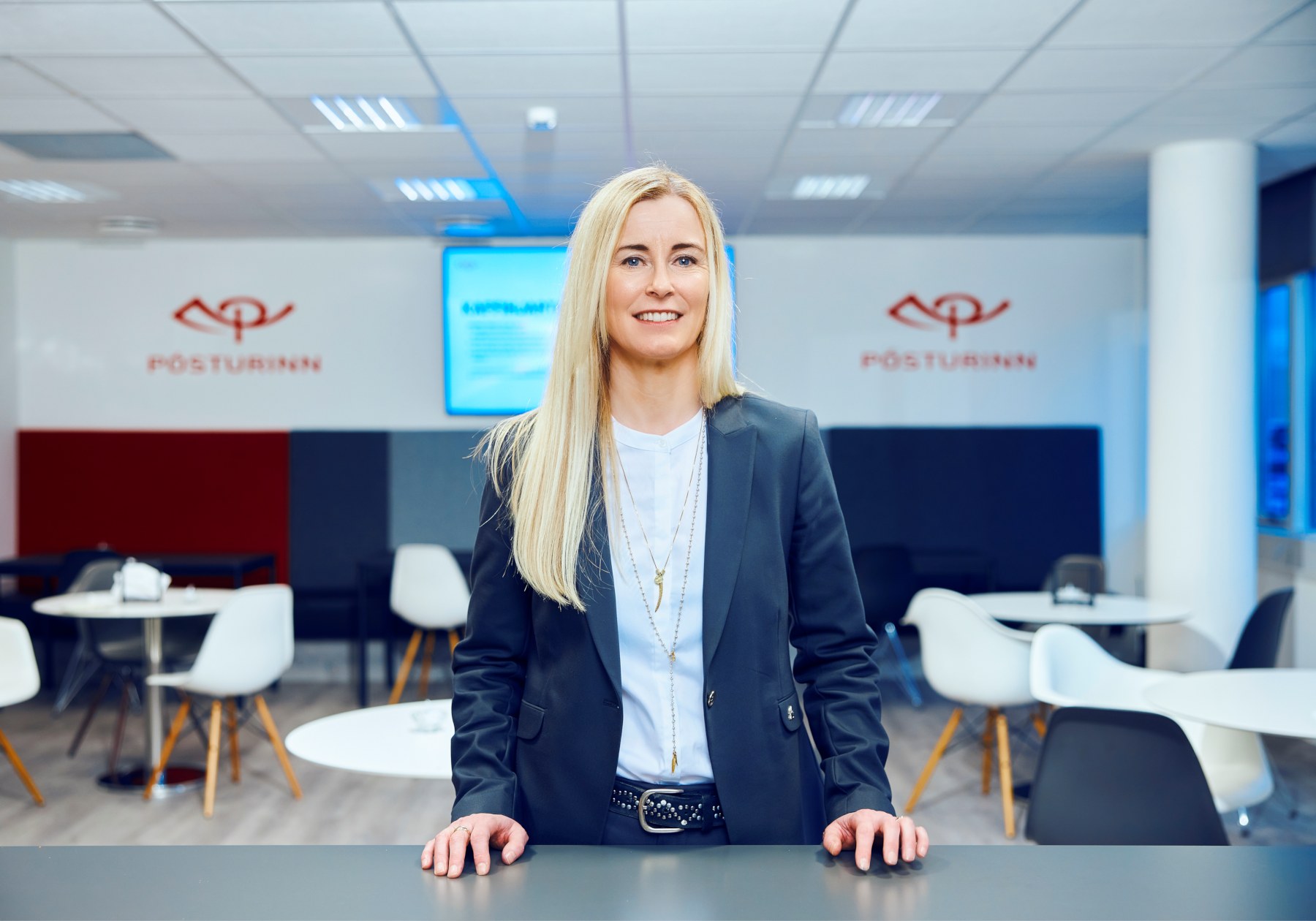 Þórhildur Ólöf Helgadóttir was young when she started early and spent time in the countryside growing up. Today she is the CEO of Iceland Post. "I have always enjoyed working and it has never really mattered what I am doing. Whether it was mopping a car repair shop or being CEO, I find work to be fun." Þórhildur loves living in Iceland and makes use of exercise and sports to reset herself. "We live in paradise, that is simply the case. That's where I get my energy from, nature and the mountains."
Major Changes at Iceland Post in Recent Years
Þórhildur first started working for Iceland Post in the summer of 2019 as CFO and worked with the previous CEO and other key executives on policy changes for Iceland Post. Since the end of 2020, she has held the position of CEO of Iceland Post. "The journey we began in the autumn of 2019 has been a very successful one. We have overcome quite a few obstacles along the way and continue to do so in a new playing field."
Þórhildur is the first woman to hold the position of CEO at Iceland Post, which she considers more newsworthy abroad than it necessarily is in Iceland. "In Iceland we have taken incredibly important steps towards equality. I believe that the next steps will not necessarily be based on gender equality, but equality based on all social factors. We are a multicultural society and everyone must be regarded as equal, irrespective of their gender, colour, religion, race, and so on."
There have been major changes at Iceland Post in recent years. According to Þórhildur, the most exciting thing about the company today is the transformation from being a letter-company to a parcel-company. "Sending letters between companies and individuals has declined over the past 10 years, and we anticipate that it will continue to decrease over the next 5 years. Iceland Post is therefore changing from being a letter company with several parcels to being a parcel company with several letters. Iceland Post's customers therefore determine what sort of a company we are, and we do our best to meet them where they are at."
The Staff Is Like a Family
Of the various things that have shaped Þórhildur as a leader, she considers her family to be among the greatest influences. "I am a mother, grandmother, sister, daughter, daughter-in-law and friend. Family is very important to me and has shaped me in many ways."
How would you describe Iceland Post as a workplace?
"Iceland Post is like a family business. The people who work here are like a big family and stick together as such. There is a high average working age at Iceland Post and a very good atmosphere. That has been my experience since I started and I hope I can help maintain such a working culture."
Þórhildur considers human resources to be of major importance. "It is the company's human resources that connect people, communities and companies, not the company itself. Human resources need care and nurturance like a plant that grows and thrives so it can carry out its tasks properly. When our people feel well, they are more likely to be able to provide our customers with good service."
Þórhildur notes that numerous variables have an impact on human resources, and it must be guaranteed that everyone has the necessary means to do their job well. "It is not sufficient to just consider the human resource as employees. We are all human beings and we must take different personal circumstances and characteristics into account. Make use of different strengths and explore avenues for everyone to flourish. Therefore we need great management tools for our managers so that they are able to support our staff and monitor the human resource heart rate at any given moment."
Iceland Post uses measurements for decision making every day, and Þórhildur considers measurements to be very important. "Corporate governance by nature requires you to be efficient in assessing the future by doing as well as possible in the present. Nevertheless, everything that is done today should be based on experience. Measurements are critical in that regard. Preferably, all employees should have the tools to assess the present situation based on historical data, and work towards a clear goal for the future."
HR Monitor, a Source of Opportunities
In January of 2020, Iceland Post began using HR Monitor as an additional tool for managers. "At the time it was important for Iceland Post to know the concerns of the employees, as there had been considerable changes within the company. Monthly surveys open an avenue for managers to do even better today than yesterday. For decades I have used HR Monitor everywhere I have worked as CFO. It is a great tool for monitoring my human resources every month. I consider it to be equally important to check in with the staff as it is to settle the company's monthly figures. This management tool opens a direct line of communication to all employees and the possibility of receiving new ideas."
Could you name some opportunities that have arisen because of HR Monitor?
"There are so many opportunities! In fact, HR Monitor is a source of opportunities. The tool opens the discussion and starts conversations. Employees get to weigh in on decisions and consequently have increased ownership over ideas and projects. Therefore, beneficial ideas and projects are considerably more likely to be successfully implemented. People feel that their contribution is valued. People feel good when they feel they are doing something useful."
What is your vision for the future of human resource management at Iceland Post?
"The company stands or falls with its human resources. There is a direct link between employee well-being and customer satisfaction, no doubt about it. It is not enough to just listen; it is also necessary to hear and react to what has been said. I believe that everyone wants to show up each day to perform well. If people do not perform well, there is always a reason behind it. The manager needs to have the means to recognize what can be improved and therefore human resource measurements are a key component for the future of companies."