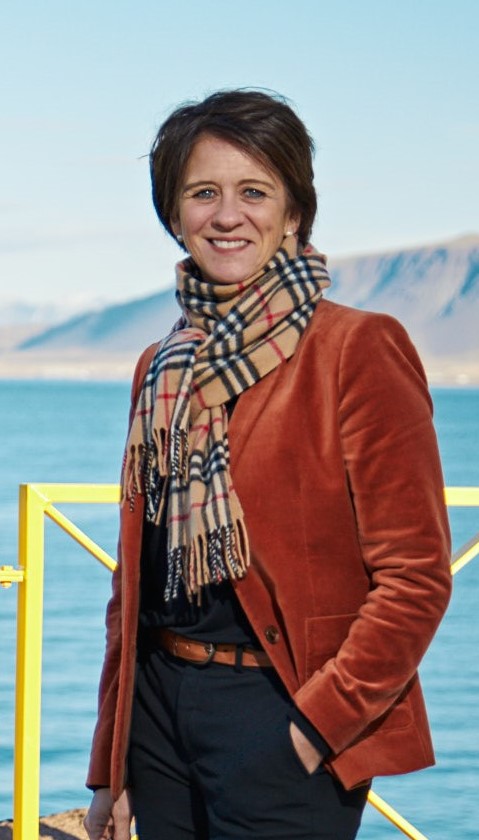 Harpa Vídisdottir HR mangager at Vordur, says that human resources, well-being, progress, and people's success have always been on her mind. She says it is important to be focused on the people in the company, especially today when the challenges due to the coronary virus are great.
"It is a great encouragement to see people flourish and succeed, so it has suited me well to work with human resources. I have worked in human resources at Vordur for about 10 years and I have enjoyed every moment.
HR professionals are always with a lot to do at this time of the year. We have recently completed our seventh equal pay survey, which we passed with distinction, as equality issues have become ingrained in our hearts and cultures. Scheduled work, human resource measurements, staff support, and special support for the workplace due to the coronavirus, goal setting, and hiring is on our desk these days."
What can you tell me about your main strategy in HR work today?
"We are and intend to be a desirable workplace and we work diligently on that day by day. We always place great emphasis on a vibrant and positive work environment, equality, flexibility, adaptability, and job satisfaction. We take good care of the health and well-being of our people and receive the support of professionals who have never been more important than now in the age of the coronavirus. We have especially focused on aspects such as trust, gratitude, compassion, humility, and respect. We feel that is especially important today where staff have supported each other and made amazing things happen. A new year is ahead with new challenges for workplaces and employees and it is necessary to be well on track in the coming weeks and months. A positive and constructive culture in the workplace must go hand in hand with demanding and progressive projects. This creates a strong team of people who achieve amazing results."
With continuous workplace measurement for three years
When did you start using HR Monitor?
"We started making regular measurements in the year 2016. Since then, we have gone from making measurements, 2-3 times a year to making monthly measurements, but we introduced them in March 2018. We thus have continuous workplace measurements for three years, that is valuable data that tell us a great story."
How do the measurements support you in your daily life?
"The measurements are an opportunity for staff to express their views regularly. Their results give an objective assessment of the status of the factors measured at any given time. By getting such results in hand, we avoid mentioning the gaps or giving ourselves something we do not have confirmation of. It is our goal to work on at least one improvement component after each measurement, so we achieve 12 or more targeted improvements in one year. We also use the measurements to evaluate progress, highlight it, and praise ourselves for it. There is such incredible motivation in the compliment. The HR Monitor measurements are part of our KPIs, so it is important to have monthly measurements."
The results give good indications
Was there anything that surprised you about being measured for the first time?
"Yes, possibly how many opportunities there were for improvement and how different the results were for individual areas. The results gave us good clues as to what tasks we should undertake and how we should prioritize them. Subsequently, it was very encouraging to see the projects become a reality and the results of the measurements change for the better. There were messages from staff about aspects that we had simply not looked at but had the opportunity to change and work on systematically. It is so important to offer such measurements and even more important for us staff to take this opportunity to express our views."
How is the coronavirus affecting daily activities and is it good to measure now due to the circumstances that the virus creates?
"The situation that the virus has created has had a very far-reaching effect, but in our case, all operations have gone better than anyone dared to hope for and we are probably looking at the company's best year to date. The company's staff has been tireless in finding ways and solutions and does not let this situation stop it. We are experiencing more calm over people this autumn than this spring, but we are probably in a little better training in this new work environment. It is very important to measure now in these times as well as others. Having older measurements for comparison is also very interesting. At the company, all measurements have increased in the year 2020 compared to previous years, and job satisfaction, overall performance, and the company's "Vardar Index" have never been as high as now, but the Vardar Index measures employee dedication."
The people who bring business success
What is the importance of human resources in your company?
"Without human resources, companies are nothing. It is the ingenuity of the staff, their courage, knowledge, ability, and diligence that brings us success from day to day. Powerful human resources are important to us and that is why we strive every day to do well and work for fairness and ambition in matters concerning human resources."
What do you hope the new year will bring?
"It has probably seldom been as interesting and exciting to enter the new year as it is now, although it will be difficult to say exactly what awaits us. The challenges will be many and unforeseen, but they clearly offer opportunities. It is my main hope that we as a society will rise again and achieve full health, physical, social, and financial." 
How has your last year been?
"The year has been unusual for us, but at the same time successful and instructive. Different working conditions and new procedures are something that everyone had to learn, but new experiences, knowledge, and lots of new opportunities were created at the same time. It is important to take the positive out of this experience and situation as we learn what could have been done better. Our people have done exceptionally well in these unusual times and for that, we are very grateful."
Do you think HR Monitor should be used in all companies?
"Monthly measurements with HR monitor have proved to be a valuable tool for us to identify opportunities, respond, and work steadily to make our workplace better today than yesterday. I believe that everyone wants to improve and do better from day to day, but in such work, it is important to have clear goals and measurements to support yourself and know which way you are going. Vörður is the Company of the Year at VR 2019 and 2020, but this recognition comes with a clear focus and vision of the goal and the path to the goal. Measurements are the basis for knowing whether one is doing right or wrong on the way to the goal."